The draft is the next big event for the
Milwaukee Bucks
, so I think it's okay to start looking at some top draft prospects that could be available to our Bucks.  I won't waste anymore time, so I'll start by talking about a player we all got to watch in the play in the Final Four this past march.
Brandon Knight
Overview
6'3" 185 lbs. PG/SG
Knight played a lot of point guard at Kentucky, while also playing off the ball.  That combine with his size suggests Knight could project as a point guard or combo guard in the NBA.  He averaged 17.3 points per game while shooting 42% from the field in one season at Kentucky.
What I like
Knight can play point guard, but also has enough size to perhaps guard another SG (with added strength) while playing with Brandon Jennings.  He can score in a variety of ways, as he made 38% of his 3-pt shots while also scoring near the rim.  Showed a good sense of understanding the game, and that allowed him to make plays besides just scoring.  His 4.2 assists per game is actually pretty good for college.
He is only 20 years of age, so he has loads of potential and talent that he hasn't discovered yet.  The guy has 100% confidence in himself and his shot, especially late in games.
What I don't like or needs improvement
While Knight is a good scorer, at times he becomes a volume scorer, meaning he gets his points through shooting more and more.  He doesn't always score efficiently enough, as his 42% field goal percentage suggests.  42% isn't bad, but it should definitely be higher (SEC defenses are nothing like the Big East, or for that matter, the NBA). 
Strength is not a concern, but should and will be added when he gets to the NBA.  His age also doesn't help his decision making and shot selection, which both need to improve. 
The Final Word
In a draft class that was weakened by a number of players staying in school, Knight is considered a Top 10 prospect by all, and Top 5 by some.  He could be available if we were to pick around #7 or 8, but there is also a chance he could be gone by #4.  He has a knack for scoring and still has a huge room for improvement, and his flaws should be cured through aging.  He would be a nice fit for this team, where he could play point guard with Jennings off of the floor, and handle the ball together with Jennings other times.  Jennings likes playing off the ball and Knight would allow him to do so at times.
Check out this sweet highlight mix of Knight.
Tyler Honeycutt
Overview
6'8" 200 lbs.  SG/SF
Honeycutt is a wing player, playing mostly small forward and some 2-gaurd.  He has the NBA body at 6'8", and with added strength would be the ideal size for a SG/SF in the NBA.  Averaged 12.8 per game at UCLA, shooting 41% from the field and grabbing 7.2 boards per game.  Honeycutt also was a defensive factor, blocking 2.1 shots.
What I like
His height and length for the position.  It is stunning that a guy can be 6'8" and so long, and play on the perimeter.  Also, he uses his height to help him elevate on his jumpshot.  What is very intriguing is how he can be a factor on defense.  He bocked over 2 shots per game, and averaged about 1 steal per game his sophmore season at UCLA.  It will be interesting to see how he can use his length and athleticism to rack up blocks and steals, and also on-ball defend in the NBA.  Has a high ceiling, only played 2 seasons at the collegiate level.
What I don't like, or needs improvement
Honeycutt isn't always assertive enough of offense.  Sometimes he just drifts around and doesn't go get the ball and make a play, despite being the best player on his team.  He needs to learn to be more aggressive as his offensive game grows.  Speaking of his offensive game, it is pretty good right now, but he needs to improve consistency on his shot and get stronger to score inside in the NBA.  He also needs improvement on ball handling and decison making.
The Final Word
Tyler Honeycutt has superb height and length for his position, giving him soem distinct advantages.  He is a big factor on defense, and has an offensive game that is off-and-on.  As he improves his offensive game, he needs to learn to be more assertive to score in the NBA.
He's not a plug-in and play prospect, but should only need one or two seasons to add strength and fine tune his fundamentals, before starting at Small Forward.  He could potentially evolve in a 20+ ppg scorer if he strengthens his weaknesses.  Most likely drafted between 10-15.
Markeiff Morris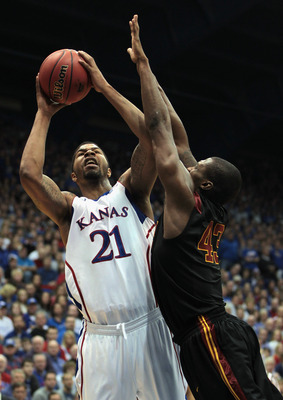 Overview
6'10" 245 lbs.  PF
Markeiff has the prototypical size for an NBA Power Forward.  He has enough strength to match up with 4s in the NBA both on defense and offense.  Has a size and length advantage over his twin brother, Marcus.  13.6 ppg, 8.3 rebounds his final season at Kansas as a Junior.
What I like
Markeiff played 3 seasons at a high level at Kansas, a national Powerhouse.  His minutes, points, rebounds, blocks, and FG% all improved from year to year all 3 years.  Consistent on offense, being held to single-figure points only 3 times in Big 12 play while playing only 24.4 minutes per game.  His rebounding rates are great, with 8.3 in 24.4 minutes. 
He has an inside-out offensive game, scoring in the paint with his height, and shooting 42% from 3-pt range.  Won't be a defensive force, but will be solid with his size, and blocked 1.1 shots per game in college.  Not a staggering number but in limited minutes, his presence is there.  Lastly, Morris will be able to conrtibute very early.
What I don't like, or needs improvement
Morris will be an early contributer, but doesn't have the high ceiling that some other big man prospects do.  He doesn't accel at one area, he is just solid at everything so he doesn't have All-star potential.  Didn't dominate in college, while other top prospects such as Derrick Williams did.
The Final Word
A big forward with a consistent offensive game and enough defense to not be concerned about it, Markeiff fits well in the 10-15 range of the draft.  He will be able to play early, but won't make the huge strides of improvement to allow him to grow into a perenial All-Star.  Has very few negatives, as well as nitpicks.  A solid big man who is a safe pick.
Alec Burks
Overview
6'6" 195 lbs.  PG/SG Colorado
Unfortunately, Burks is the only player of the 4 that I haven't seen play live, so I am going off of expert scouting reports, stats, and a little bit of youtube videos.
Burks at 6'6" possesses elite size for a combo guard.  Burks is very athletic and long, allowing him to be scary in transition and a threat taking the ball to the rim.  He scored 20.5 points per game his final season at Colorado.  But most of his points didn't come from 3-pt range, as he only made about 1 per game shooting 29%.
Burks rebounds well because of his height and athleticism (as well as maybe some desire), and uses his length to get over 1 steal per game. 
One thing I really like about the idea of Burks is that he could play the point with Jennings on the floor, but guard the shooting gaurd without be mismatched.  Jennings appears to play better off the ball, which is why Skiles played him and Ridnour together in '09-'10.  The problem was neither of them could guard a 6'5" or 6'6" SG, so it created a mismatch.  I also wrote that I liked this in Knight, too, but Burks is bigger and more capable of matching up with an NBA SG.
The Final Word
Burks doesn't have a great outside shot, but regardless found different ways to score over 20 ppg.  He has great size at 6'6" to play both guard positions, and he can help Jennings handle the ball.  He lacks upper body strength, but it isn't a concern if he works on it.
Others to keep an eye on:
Trey Thompkins, 6'10" 247 lbs.  PF, Georgia
Chris Singleton, 6'9" 225 lbs. SF/PF, FSU
Jan Vesely, 6'11" 235 lbs. PF/SF, CZ 
Thanks for reading this, I hope you learned something about these draft prospects.