This is my second post dissecting draft prospects for this upcoming draft.  You can check out Volume 1 by clicking this link or else it's on the front page.  This time I will look into a few 2nd round prospects as well, while V. 1 was only 1st rounders.  Before we get to prospects, I just want to say a few things about this class and our team needs.
A.  We need a scoring wing.
B. This class has very, very few scoring wings (Knight and Burks are the only ones who are Top 12 prospects).
C. This team doesn't need any more PFs (already have Gooden, Brock, Sanders, Ersan, and Luc).  The only reason to get another one is if he's clearly above all of those guys.  We don't need more depth.
D. This class has alot of PFs, none of which will be both available to us and better than what we already have.
E. A backup Center should be targeted in the 2nd round.
So that's what I've got to say about that, now let's jump in prospects. 
Klay Thompson
Overview
6'6" 202 lbs.  SG. Washington St.
1st round prospect, Most likely picked 10-18.
Thompson is a pure long-distance shooter, making 98 long balls last season, making 40%.  He has good size for a SG, but doesn't have the athleticism for him to develop into a true all-around scorer.  A good rebounder for his position, and made some plays on defense (1.6 steals, 0.9 blocks).
What I like
The guy can flat out shoot.  He can make a lot of threes while maintaining a solid percentage.  He can also shoot with limited space.  At 6'6", he has good height for a typical NBA SG, and combining his height and quick release makes it easy for him to get his shot off.  Scored 21.6 ppg last season, ranking in the Top 10 in the nation.
Despite not being one of the most athletic players, he understands the game and anticipates en route to 1.6 steals per game his final season.  That goes along with 0.9 blocks per and 5.2 rebounds.
What I don't like or needs improvment
Thompson isn't athletic like Burks or Honeycutt, plain and simply.  He isn't "unathletic" by any means, but doesn't have the speed or jumping ability to get out and score in transition, or finish at the rim consistently in the NBA.  Usually under control, but 3.4 Turnovers and 2.9 fouls per game suggest he can get a bit sloppy/erratic at times.
The Final Word
Thompson might be a slight reach at #10, but with the Bucks' major need of a shooter and scorer at SG, he fits the bill.  21.6 ppg, 40% for 3-pt...that says it all about his offense.  Not a great athlete, but covers it up with a "no-hesitation" type of game.  Wouldn't start but would get solid minutes as a rookie to help out the offense, and would sit John Salmons down by his 2nd season.
Jonas Valanciunas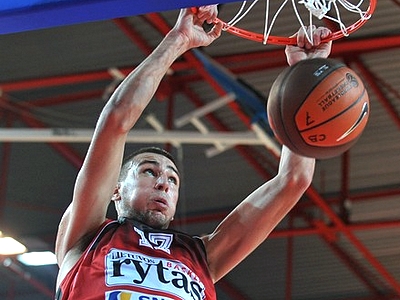 Overview
6'11" 240 lbs.  C/PF. Lithuania
1st round, Most likely picked 5-10.
A very young (only 19 years) big man who projects as a center or maybe power forward in the league.  He has soft touch inside and a decent midrange that he doesn't show often.  Still very raw, needs to add a lot of strength, and needs to learn the finer points of the game.
What I like
Jonas has size that is undeniable and can potentially be dominant.  He already has a decent touch on shots inside, and while he rarely shoots from the outside, when he does he shows a decent midrange shot.
His potential is absolutely through the roof.  He is only 19 years old, and has improved drastically since he first appeared on the national stage when he was 16. 
What I don't or needs improvement
Valanciunas is not strong enough now to be able to be a major contributor as a rookie, and it may even take him a few years to get his strength where it needs to be.  As I said, he has a decent touch inside but he won't be able to use it until he gets stronger.  
A team that drafts him will have to rely almost completely on his development from year to year, as he doesn't have a whole lot to start with.  His physical abilites and skills will have to improve, as well as his discipline and understanding of the game.  He had a lot of trouble with fouls in the Euroleague.
The Final Word
Valancuinas has size that is rare to come by, and if he can improve his raw skills, he will be a top big man in the league.  He has a decent midrange shot and makes his free throws, two things that are rare in near 7-footers.  He could be a backup center (and maybe some PF) during his first 2-3 seasons behind Andrew Bogut, getting decent minutes that would increase if Bogut got injured.
Jimmer Fredette
I've seen this guy play too many times to not write a report on him.
Overview
6'2" 195 lbs.  PG/SG.  BYU
1st round, most likely 10-20
Fredette is a sharpshooter.  He made 124 3-pointers last season, making 40%.  He made about one-third of them from NBA 3-pt range.  He also took the ball to the basket, scoring and drawing fouls, resulting in 28.9 ppg (1st in the nation).  He continues to be poked and prodded about his athleticism, which isn't very good.

What I like
He can shoot it from anywhere, at any time and have a good chance of making it.  That is very valuable when you're working against a 24-sec shot clock.  He can hit threes to open up the inside game for Bogut, and to take pressure off of Jennings.  His ability to beat a defender off the dribble and get to the rim is very underrated.  He gets to the line and makes his free throws (89%).
A high character who will have no issues with work ethic.
What I don't like or needs improvement
While his lack of athleticism is overstated, he still doesn't have what's necessary to guard the quicker guards or get to the rim consistently.  He will have to play PG in the NBA, considering his size and quickness he won't be able to guard any 2's in the league.  He will have to get used to not having to put the team on his back 24/7.
The Final Word
For a team that went the whole season struggling to score, Fredette makes a lot of sense on the surface.  He scored 28.9 ppg as a senior, while making over 120 threes at 40%.  He can surely shoot the ball, but the questions and issues lie elsewhere.  One issue is how he would be able to play at the same time as Jennings, when they are both under 6'3" and Fredette doesn't have great feet.  Also, you have to wonder if Jimmer will be able to score in the NBA like he did in college. 
Demetri McCamey

Overview
6'3" 205 lbs.  PG. Illinois
2nd round, most likely 35-50
On the surface, McCamey looks like a player who fits in the 15-25 range of the draft, especially looking at his size, his ability to stroke it from deep (45% 3-pt), and his production in a Power 6.  But the issues lie sort of in the "background".  He has been questioned and called out about his work ethic, conditioning, and leadership.
What I like
McCamey has elite size for a PG, at 6'3" and over 200 lbs.  He uses his size and strength to his advantage when he drives to the basket.  The strength of his offensive game is probably his shooting.  He made 45% of his 3-pt shots last season, every one of them with confidence and a smooth release.
McCamey has displayed his shooting and scoring abilities over his collegiate career, but he also has put up superb assist numbers.  He averaged over 7 apg as a Junior and over 6 as a Senior.  He shows a lot of confidence in his offensive game.
What I don't like or needs improvement
McCamey has a few red flags as a prospect.   First of all, he was called out by his own coach for being out of shape, and not working hard enough.  His own coach questioned his leadership and work ethic publicly.  He has had defensive lapses that appear to be due to a lack of effort.
McCamey isn't athletic enough to be able to lead an effective fastbreak in the NBA, and he also won't be able to beat guards off of the dribble consistently. 
The Final Word
McCamey doesn't have the athleticism or skills to be a complete scorer in our league, but he could be a spark on offense by hitting outside shots.  But before a coach like Scott Skiles takes a guy like him, Skiles will have to be convinced all of those issues of work ethic and effort ar behind him.  McCamey would be a solid backup Point to Jennings, where he could relieve Jennings while opening up the floor a bit for Bogut to work inside.
Keith Benson
Overview
6'11" 217 lbs. C/PF.  Oakland
2nd round, 30-45
Benson is one of a few true center prospects that will be available in the second round.  Benson was a force at mid-major Oakland, but the competition was clearly not anywhere near the NBAs.  Benson has the height at 6'11" and length to be a worthy Center prospect the Bucks' FO should be looking at.
What I like
You can't not like a player who stand at 6'11" with a wingspan of almost 7'4".  Benson used his height and length to be a true force at Oakland, averaging 17 ppg and over 12 rebounds.  He doesn't have a lot of post moves, but can go to a right hook against smalller defenders and shoot a 12-15 foot face-up jumpshot.  He also runs the floor well for his size.
3.6 blocks per game says a lot about his defense.  He blocked shots left and right in college.  He mostly blocked attempts inside the paint, but sometimes was able to get out and block shots on the perimeter.  He does a good job of recovering the ball after blocking the shot.
What I don't like or needs improvement
Benson's strength is definitely a concern, as he may need 2 or 3 seasons and offseasons to gain strength and get to an ideal weight.  He hasn't proved he can bang with other players his size.  Playing at mid-major Oakland, Benson rarely had to work against a player his size.  He will need some time to adjust to such a high level of competition.  Lastly, he has a decent righty hook but will need to expand his options in the post.
The Final Word
Benson is not an NBA-ready player, but would be the solidified backup center by his second year.  He's one of very few 2nd round prospects with his size and length.  With added strength and adjustment to the competition, plus some new offensive skills, Benson could be a double-double machine at Center.
Marshon Brooks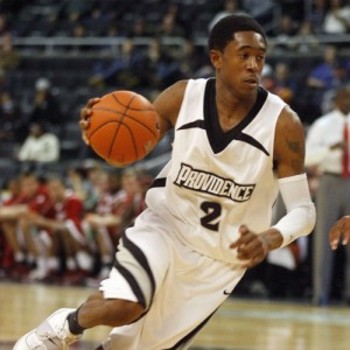 Overview
6'5" 195 lbs.  SG.  Providence
2nd round.  30-40
Brooks has ideal height for a 2-guard, with an amazing 7'1" wingspan.  Brooks was a prolific scorer in the Big East, averaging 24.6 ppg while shooting an efficient 48%.  In the NBA, he will have to learn to not be "the man" and not dominate the ball as much, and also improve his shot selection.
What I like
Marshon Brooks is a natural scoring 2-guard.  He scores almost 25 ppg, but does it with an impressive FG%.  He scores in a variety of ways, showing off his 3-pt shot, mid-range shot, and finishing at the rim.  He scored 52 points in a game vs Notre Dame this past season, but looked angry and dissatisfied because his team lost.  Brooks has good height and even better length (7'1" wingspan is ridiculous) and uses it on the glass, clearing 7 rebounds per game.  He also utilizes his length on defense, with 1.5 steals and 1.2 blocks per.
What I don't like or needs improvement
Brooks will have to adjust his mindset in the NBA.  He will no longer be the best player on his team, and won't be required to put the team on his back.  That mindset led to him taking ill-advised shots too often.  Doesn't always give full effort on defense, but Scott Skiles should take care of that.  Lastly, Brooks doesn't have the strength or athleticism to be a prolific NBA scorer like he was in college.
The Final Word
Brooks posseses the ideal size and skillset of an NBA 2-guard.  He lacks elite athleticism, but he is athletic enough to beat a defender off the dribble and gets to the basket.  He will have to made adjustments in his playing style, no longer being "the man".  He could provide offense off of the bench for years 1 and 2 and then take the starting SG role from aging John Salmons.