Just another typical blowout win, am I right? First it was a 20-point thrashing in Philly against the Sixers, and now a 114-88 beatdown of the Utah Jazz. You can't stop the post-deadline Bucks. You can only hope to contain them, and even that is becoming extremely difficult.
The Jazz, on the second leg of a back-to-back that started with a tough loss in Indiana, didn't pose much of a threat outside of Gordon Hayward (20p/4r) and Enes Kanter (27p/14r/11-12 from the line). The rest of the Jazz shot 17-48 (35 percent) and offered little-to-no resistance against the Bucks, letting Milwaukee shoot 56.8 percent from the field with a 46-36 advantage in the paint.Though the Bucks only led by seven at the half, the game was never really too close, and was definitely put out of reach when the Milwaukee outscored Utah 40-19 in the third quarter.
For the Bucks, this is their second win in a four game stretch, something that seemed pretty impossible before the trade deadline. Even if you are pulling out your hair over the Bucks ''falling back'' towards the ''hard-charging'' Sixers, it has to be at least kind of nice to see the Bucks put together a pretty complete performance, even if it came against an equally awful team. Maybe not. I can't remember what I'm supposed to feel.
Observations/Stats:
Move over LeBron, there's a new king of the court. Ersan Ilyasova went a typical 13-14 from the field and ended up with a standard 31 points, most of which came in three quarters. Thankfully Ersan showed some humility by letting up in the fourth quarter. The game was already out of question, so kudos to Ersan for showing some mercy. Seriously though, tonight was bonkers. Ilyasova hit shots from everywhere; from three, on drives, on midrange, on putbacks, from section 401, 405, and 415. It may be a little too early to say that the second half surge Ersan is known for is on its way, but I think we can put Hobo Ersan to rest, which is something I was not comfortable saying a few weeks ago.
Also, our pal Jon Hartzell put together this FANTASTIC photoshop of Ersan's legendary night. It may look a little familiar.
Another @jhartzell2 masterpiece pic.twitter.com/unBAFRyOMw

— Eric Buenning (@ericbuenning) March 4, 2014
Giannis Antetokounmpo had another coast-to-coast highlight play in the course of an 8p/4r/3a night. Did I mention how much I enjoy these? Hint: It is a lot. I enjoy them a lot.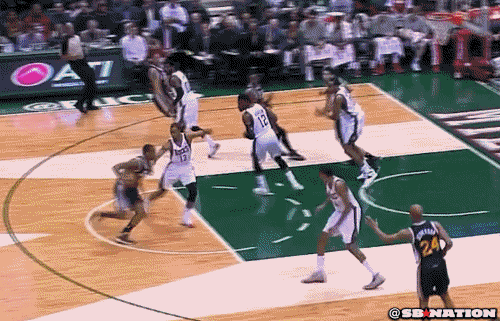 In case you missed it, the Bucks signed Tony Mitchell to a 10-day contract. The back-to-back D-League Dunk Contest winner could potentially find himself on the end of these Giannis-led fast breaks. After some brief thought, I reckon that may be fun to watch.
Pachulia had a sneaky good 14p/6r/5a/8-8ft night. After looking quite sluggish the past few games, Zaza was much more effective tonight. A lot of it can probably be attributed to the lack of Jazz defense, but...well, we're just going to ignore that, okay?
The Bucks' starters shot 28-37 and 6-7 from three. Is that good?
The Bucks will try once again to collect their first winning streak of the season on Wednesday when they host the Sacramento Kings. Could Wednesday finally be the night they pull it off?