The Bucks have signed second-round pick Damien Ingls, reports Eric Pincus of Basketball Insiders. The 19-year-old native of French Guiana was selected 31st overall by Milwaukee in the June draft, and had been projected to go somewhere in the late first round before breaking his foot during pre-draft workouts.
The 6-foot-9, 240-pounder is another player with the versatility to play multiple positions. More importantly, he can potentially be a very good defender at multiple positions. Bucks' Director of Scouting Billy McKinney was impressed by Inglis' defense at the Nike Hoops Summit and compared him favorably to a former pro that also did most of his damage on the defensive end.
"We had the entire week to watch his practice habits and see all of the things he was able to do.
He is another guy that can play multiple positions on offense and defense. When we looked at him, we kind of compared him, with his build and his size, to a Ron Artest. He's very skilled. He can handle the ball, make plays off the dribble, shoot the ball, defend multiple positions. He rebounds the ball well, and is a pretty darn good athlete."
Though Inglis has a long way to go before approaching Artest's level of production, he may be able to come in and put his 7'3" wingspan to use as one of the team's better wing defenders. He may not become the stopper that Luc Mbah a Moute immediately, but don't be surprised if Inglis' game looks familiar--on the defensive end at least. Offensively, Inglis has shown an intriguing combination of ball-handling and playmaking for a player his size, while also making strides as a shooter (39% threes in limited minutes last season in France).
Inglis' signing brings the Bucks' roster to 17 players, a number they'll have to carve down to 15 by the start of the regular season. Here's a snapshot of where the team stands in cap terms:
(Note: The terms of Inglis' deal have not yet been disclosed, but let's assume he'll get a similar deal to last year's second-round pick Nate Wolters and 36th overall pick in this year's draft Johnny O'Bryant, a.k.a slightly above a minimum deal).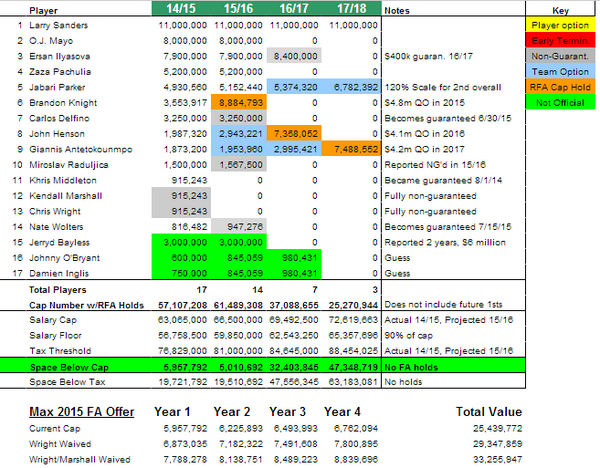 Chris Wright and Kendall Marshall are the only remaining non-guaranteed deals on the roster, with Wright the most logical option to be waived before opening night. Milwaukee's potential cap space projects to around $6 million with the 17 players currently on the roster and around $6.9 million if Wright were waived.
Pincus reports that the Bucks have also officially renounced Ramon Sessions, who came back to the Bucks in last season's trade with the (then) Charlotte Bobcats. Sessions averaged 15.8 points and 4.8 in 32.5 minutes per game while he split backcourt duties with Brandon Knight and Nate Wolters. Sessions was not expected to return after the acquisitions of Jerryd Bayless and Kendall Marshall, but the Bucks had not yet officially renounced his Bird rights.